We offer testing services as an official Pearson Vue Testing Center.
Tests that can be taken at the ROE include the GED, Paraprofessional Test, and more. Transcripts from testing can be provided upon request.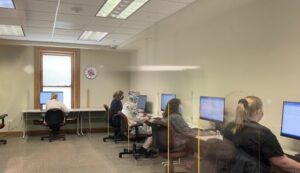 Our testing center is in a temperature-controlled environment equipped with modern technology for maximum concentration during the testing process. We have free and secure lockers for use during the test as well as restroom facilities on the same level.
Our testing center has been updated to accommodate COVID-19 regulations. Desks are six feet apart, and plexiglass dividers have been installed in between every monitor to ensure a safe environment. 
We do not handle registration or payment for any of the tests. All registration and payment must be done through Pearson Vue. To view the certification and licensure tests, please visit Pearson VUE's Test Taker Services.
We provide GED diplomas and transcripts upon written request, faxed or sent by mail. Transcripts cannot be obtained via email. For each transcript/verification, the cost is $10 and for each diploma the cost is $10. Although we try our best to accommodate each request as soon as possible, it should be expected that each request may take up to 7-10 business days. Please complete one of the forms below.
GED Transcript & Diploma Request Form (English)