Click on the Links Below for Nomination Information for the 48th Annual Educator of the Year
Nomination Book Guide Video
Kane County Regional Office of Education Honors
Dr. Charles Hiscock as 2023 Educator of the Year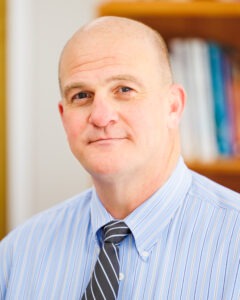 The Kane County Regional Office of Education is proud to announce that Dr. Charles Hiscock, principal at West Aurora High School, District 129, has been named the 2023 Educator of the Year.
The Kane County Regional Office of Education established the Educator of the Year award to honor outstanding educators in the county who have demonstrated exceptional dedication to their students and their profession.
Dr. Hiscock has been an educator for over 33 years, and during that time he has made a significant impact on the lives of his students and his team members. He has a passion for education and his enthusiasm is infectious, which has helped to inspire a love of learning in his students.
"Dr. Hiscock is a truly exceptional educator who has made a profound impact on the lives of his students," said Patricia Dal Santo, Kane County Regional Superintendent. "His leadership, passion for education, and dedication to West Aurora High School is an inspiration to all of us in the education community."
Listed below are the education professionals who won their respective categories at Educator of the Year:
Regional Superintendent Award: Neil Currie, St. Charles East High School, District 303
Educational Service Personnel Award: Adam Bryl, South Elgin High School, District U-46
Student Support Personnel Award: Faye Licari, Kaneland School District 302
Private/Parochial Teacher Award: Sharon Elgar, Aurora Central Catholic High School
Early Career Educator Award: Michael Smith, Davis Primary School, District 303
Elementary/Early Childhood Teacher: Dr. Ann Butcher, Fearn Elementary, District 129
Middle School Teacher: Kiel Douglass, Waldo Middle School, District 131
High School Teacher: Emma Cole, Geneva High School, District 304
School Administrator: Dr. Susan L. Harkin, School District 300
Dr. Hiscock and all category winners were recognized at the Kane County Regional Office of Education's annual awards ceremony held on May 5, 2023, at the Q Center in St. Charles, IL.
2022-23 Dr. Charles Hiscock – 129
2021-22 Jillian Yaggie – 302
2020-21 Susan Jones – 101
2019-20 Covid Pandemic
2018-19 Tina Scruggs – 301
2017-18 Kyle Libberton – 303
2016-17 Matt Gain – 304
2015-16 Holly Yee – U46
2014-15 Sherry L. Douglas – 300
2013-14 Carol A. Mertes – 131
2012-13 Anette Bliss – 301
2011-12 Edward W. Brouch – 131
2010-11 Dr. Denise M. Hobbs – 303
2009-10 Francisco de los Santos – 131
2008-09 Deborah Perryman – U46
2007-08 Terri Dawson – 300
2006-07 Donna Lynn Letzter – 129
2005-06 Paul R. Hardt – 300
2004-05 John Walker – 101
2003-04 Luis Cabrera – U46
2002-03 Dr. John Struck – 131
2001-02 Janet Hornbostel – 303
2000-01 William Kane DuBois – U46
1999-00 Becky Furnish – 304
1998-99 Mark Bettcher – 300
1997-98 Gwendolyn Miller – 131
1996-97 Susan Khalaieff – 304
1995-96 Ron O'Neal – U-46
1994-95 Joan Brown – 300
1993-94 Jo Ann Zentz – 129
1992-93 Gary Jewel – 129
1991-92 Stan Sanderson – 300
1990-91 Liz Starnes – 300
1989-90 Yvonne Hollingsworth – 131
1988-89 Irwin Johnston – U46
1987-88 Rita Smith – 129
1986-87 Page McCloud – 101
1985-86 Mara Lapsa – 302
1984-85 Bonnie Bray – 302
1983-84 Ronald Babcock – 300
1982-83 Virginia French – 300
1981-82 Elaine Parker – 129
1980-81 Richard Johnson – 129
1979-80 James Valesano – 131
1978-79 Carol Ruby – 129
1977-78 Deane Westland – 303
1976-77 Harry Patterson – 129
1975-76 Robert Gemmer – 129