It was a night of many words! Kane County Regional Office of Education (ROE) hosted this year's Kane County Final Spelling Bee at Thompson Middle School in District 303, on March 15th. Eight students participated in the finals and all showed a prowess for all words in the English language.
Participants were the following: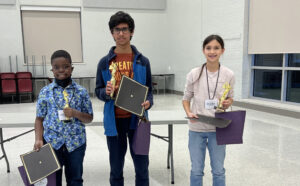 Antonia Kristofer – St. Peter School

Cali Wagner – Kaneland McDole Elementary

Clara Bello – Immanuel Lutheran

Jonathan Boateng – Elgin Academy

Katelyn Petterson – Dundee Middle School

Lily Sikora – St. Patrick School

Micah Rurack – Hampshire Middle School

Tejas Katira – Larsen Middle School
The eight participants, who began their spelling bee journey by winning at the local level at their school, were reciting and spelling at a furious rate. Tejas Katira (who also won the Spelling Bee in 2021) was victorious at this year's Spelling Bee with the word metastasize; which means to spread from one part of the body to another. It was a battle of words with Tejas, Jonathan Boateng – who came in second place, and Clara Bello – who placed third. Some of the words that were used during the competition consisted of emphysema, nonnegotiable, anxiety, trounce, and memorandum. 
Patricia Dal Santo, Regional Superintendent at Kane County ROE, said about the competition "To witness this event in-person was incredibly special. The ROE hosted the spelling bee online last year, due to the pandemic; to see how far each child has come to get to tonight is quite a feat to behold. I am extremely proud of each participant, and ROE staff, who made this night possible."
As the first place winner Tejas has the option to attend the Scripps National Spelling Bee Finals taking place in Maryland during Memorial Day week, $300 in expenses will be covered by Kane County ROE for use of covering plane tickets and lodging.