The Kane County Regional Office of Education (ROE) recently supported two educational workshops focusing on Standard Reunification Method (SRM) from the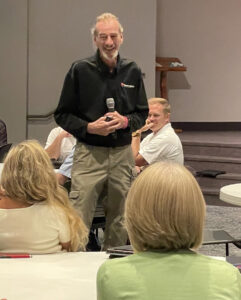 "I Love U Guys" Foundation held in St. Charles and Geneva School Districts attended by many local district staff and first responders. Reunification is the term used to describe what happens when a district needs to evacuate a building and students need to reconnect with parents safely. The day-long training included speakers and exercises that provided proven methods for planning, practicing, and achieving a successful reunification. Pat Dal Santo, ROE Regional Superintendent, commented "We are happy to support a common framework for our districts in Kane County to reunify students when a building is evacuated." 
The eight-hour session included  such topics as –
Reunification plans are not a one size fits all concept. 

When working among many municipal agencies during a heightened event make sure everyone is using the same vocabulary.

Process and procedures should be practiced.

Every organization should have a protocol that enables rapid response determination when an unforeseen event occurs.
The "I Love U Guys" Foundation was founded in 2006 by John-Michael Keyes whose daughter, Emily Keys, was killed in the Platte Canyon High School hostage crisis in 2006. The last words Emily Keys texted her family before being killed was "I love you guys". According to their website "[The Foundation] focuses on community members with a vested interest in safety, preparedness, and reunification in schools. The Foundation serves the lives of students, administrators, public safety experts, families, and first responders through the development and training of school and community safety and family reunification programs."