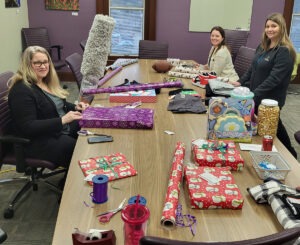 The holiday season is here and the Kane County Regional Office of Education (ROE) along with the McKinney-Vento Program is giving back to the community by adopting a family. The goal is to help provide needed items, along with holiday gifts, that will help the adopted family throughout the year.
The ROE has adopted 15 families, one each year for the last 15 years. All the funds for the family are collected from ROE staff members donating money towards the purchasing of supplies and gifts for the designated family. According to Jimmy Pawola, ROE Equal Chance Program Coordinator "Once donations are collected the ROE is provided a wish list from the family with what they need, which usually consists of clothing, home items, gift cards, etc. Then the ROE team members will go shopping for the family, wrap the gifts, and will drop the gifts off to the family."
Patricia Dal Santo, ROE Regional Superintendent commented "The holiday season is a time to reflect and give back to those in need. It's important to offer hope for those who need it the most. When the ROE gives back, we help better the lives of the people in the Kane County community – one family at a time."
Discover more about the Kane County ROE, visit www.kaneroe.org. Stay updated with Kane ROE and subscribe to the bi-weekly newsletter from the Kane ROE and follow-on Facebook, Twitter, Instagram, LinkedIn, and YouTube.
Photo: ROE staff members wrapping holiday gifts to give the adopted family this season.